Wayne Durango - vocals, bass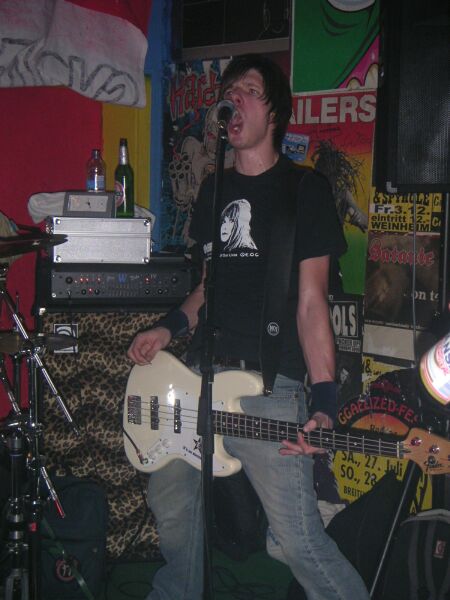 date of birth: 28.02.1980
home: metropolis of hip hop dorks
a.k.a.: Erguez, Sid Dynamite, H.H. Guellner
main profession: pimp
characteristics: time wasting slacker
favorite food: Kung food
favorite drinks: Jaegermeister & Muttermilch
favorite actor & actress: Robert De Niro, Teri Hatcher oh my gosh!
favorite BBQTs song: Stupid dickhead
10 records for eternity:
Bad Religion - Generator
Muse - Origin of symmetry
Guns'n'Roses - Use your Illusion 1 & 2
Coheed And Cambria - In keeping secrets
Refused - The shape of punk to come
The Red Hot Chili Peppers - Blood sugar sex magik
The Weakertans - Reconstruction site
Kristofer Astroem - Northern blues
Thursday - War all the time
Lifetime - Jersey's best dancers
10 songs for eternity:
Europe – The final countdown (best song ever - mullets galore!)
Guns 'n' Roses- Mama kin
The Get Up Kids - Anne Arbour
Kristofer Astroem - What I came here for
Iron Maiden – Fear of the dark
NOFX - Linoleum
Coheed And Cambria - A favor house atlantic
Johnny Cash - Hurt
Alkaline Trio- Continental
Modern Life Is War - D.E.A.D.R.A.M.O.N.E.S.
most embarrassing record I've ever owned: Capella – U got 2 let the music
favorite movies: The Big Lebowski, Star Wars Trilogy, Matrix, Devil's Advocate, Alien II
coolest character in a movie: Jesus Quintana (The Big Lebowski): "Let me tell you something, Pendejo!"
favorite spots on planet earth: The Weinloch in the Untere Strasse in Heidelberg, where Schnaps still tastes the way it should!
bands I've played in before: HWD, 9mm Squad, Pilsroiba, Ninja Sushi, The Wiggums, Push Button For Jets, besides I played bass for Wolle Petry on his extremely successful "Da geht mir einer ab"-Tour
wack free time activities: playing Zelda on my SNES!
shoutouts to: My incredible arse!
a quote to end it all: Can't stop farting! (The Queers)